When it comes to booking a business class ticket for a long-haul flight, there's more to consider than just the price. Is the airline's food any good? Can you expect extra assistance or attentive onboard service? Will the seat turn into a fully flat bed, or is it a less desirable angled recline? Airline websites aren't exactly forthcoming when it comes to the nitty gritty details of their premium product, and flyers are left to wade through glossy images and marketing all promising a heavenly experience at 38,000ft. I fly more than 200,000 miles each year, across all cabin classes and an ever-changing variety of airlines, and even I get confused.
When it comes to sleeping in the sky, I like to see airlines give their business class flyers privacy and space, plus mattress pads that smooth out the bumps of the seating surface and soft duvets that remind the passenger of the comforts of home. For business travellers, getting the rest necessary to walk off the plane and into work with a clear mind is good for their livelihood. For leisure travellers, a quality in-flight snooze brings the energy to launch into an ambitious itinerary, not to mention some satisfaction that the extra cash spent on flying a premium class was well spent.
Here are 10 of the best business class seats – with a fan of each explaining why frequent flyers love them.
Qatar Airways: Qsuite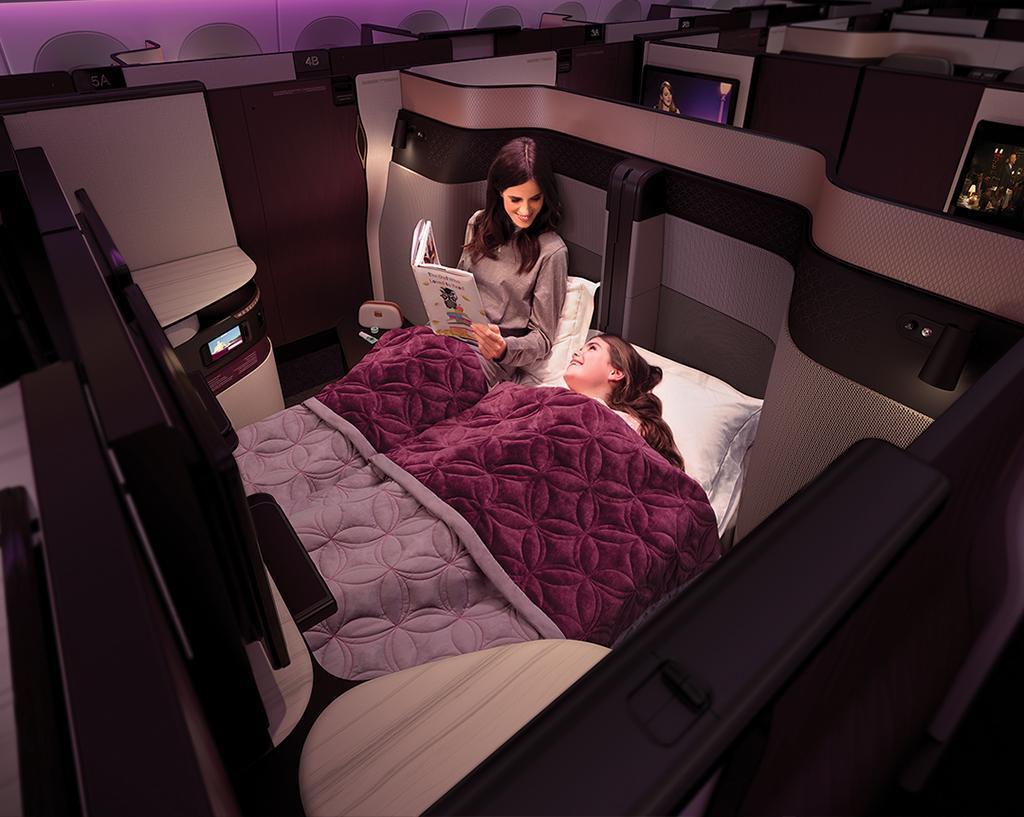 The hype is real. As the first fully lie-flat double bed in business class, this new offering from Qatar Airways rockets to the top for sleeping comfort. Movable partitions, privacy doors, extra seat width, and the ability to combine neighbouring seats to turn them into the flagship double bed means the Qsuite is a smart choice for every type of traveller, from four-person families and cuddling couples to solos wanting to be left undisturbed. Turndown service adds a quilted mattress pad, pillows and a plush duvet to the arrangement, and a "do not disturb" button keeps flight attendants from shaking you awake for breakfast two hours too soon.
The generously proportioned Qsuites are now flying between Doha and London, Paris and New York, and will be on all Qatar Airways Boeing 777-300ER and Airbus A350 aircraft by the end of this year.
 A fan says: "It opens up at the right length for side sleepers. There are air vents to help keep the cabin comfortable, and a decent weight blanket as well. The door also minimises disturbance and dampens some of the noise in the event of crying children." Trevor Mount, TaggingMiles blogger.Worth it for: Extra wiggle roomBEST BUSINESS CLASS BEDS IN THE SKY, FROM JAPAN AIRLINES TO QATAR'S QSUITES
Best for: Sideways sleepers and travellers who appreciate every bit of space
Cathay Pacific: Business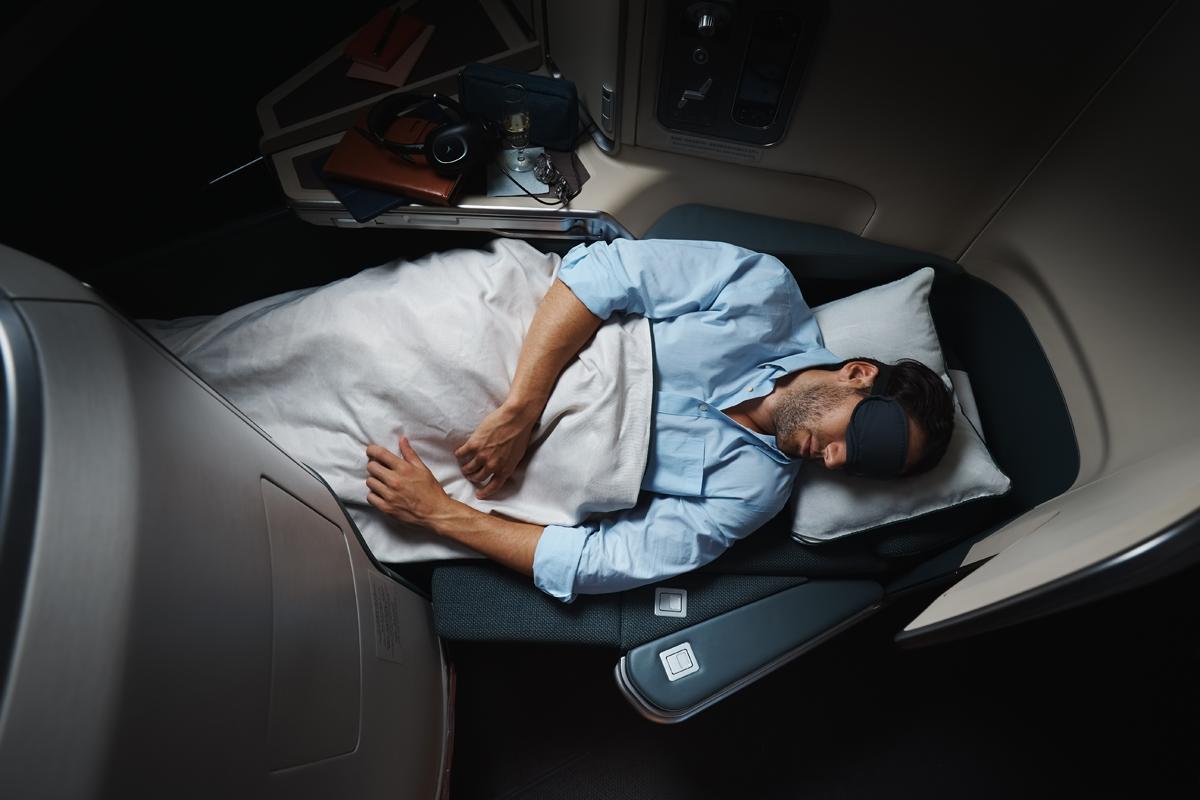 "Reverse herringbone" is a seating configuration beloved by frequent flyers around the world, and Cathay Pacific was the airline to debut it in 2010. The design, which angles passengers towards the windows while guaranteeing aisle access for all, comes from James Park Associates, the firm behind the plush interiors of the Venice Simplon-Orient-Express.
The seats recline to a fully flat surface of 75 usable inches and feature a retractable armrest and extension, increasing the seat's width from 21in (sitting) to 29in (fully flat). It's a reliably comfortable sleeping surface, and its success has inspired many other business class cabins, including those of EVA Air, American Airlines, China Eastern, Sri Lankan, Air France, Air Canada, Avianca, and more.
A fan says: "The layout ensures I can create a little cocoon and be left alone. When I fly other airlines that arrange seats side by side, and I have to step over seatmates to get into the aisle, those feel more like premium economy rather than business class." Matt Long, blogger, LandLopers.
Worth it for: Privacy without sacrificing ease of access
Best for: Solo and business travellers
Etihad Airways: Business Studio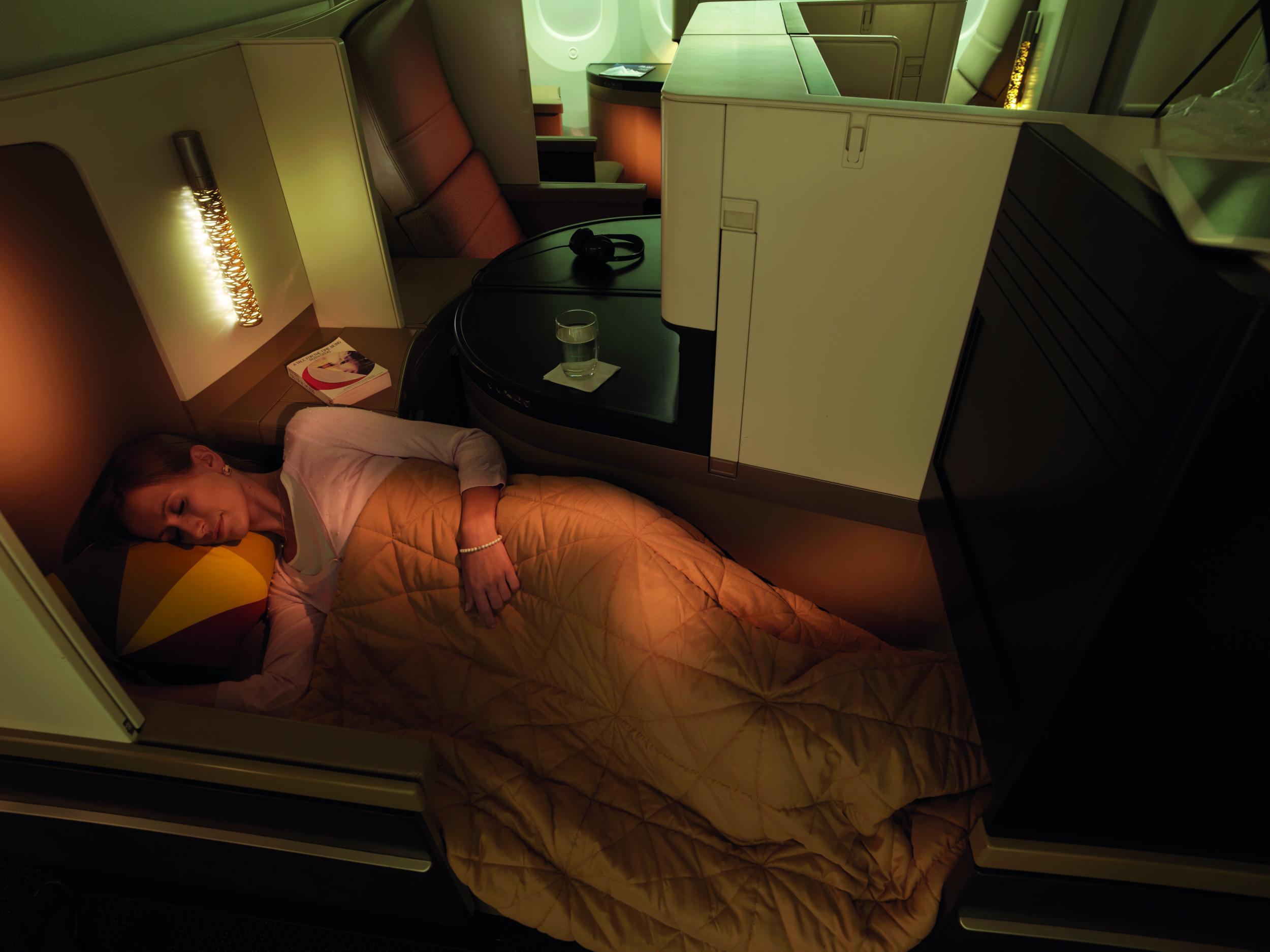 Peace and quiet and plush bedding make sleeping in business class on Etihad a certainty. The dual-sided blanket (one "cool" side of diamond-patterned fabric and one warming, fuzzy side), large pillows, and soft mood lighting for each seat aims to make passengers feel more at home, and less like they're buckled up on an aeroplane. On the airline's Airbus A380s, chatty passengers who would normally congregate at the front or back of the cabin to talk are ushered into an onboard lounge, leaving the cabin blissfully quiet.
A fan says: "There is something about the neutral palette (tans and browns) and the seat configuration (seats face in both directions) and actual seat design (less cocoon-like than others) that gives the illusion of more space than comparable business class cabins." Pilar Guzmán, Editor-in-Chief, Condé Nast Traveler, waxed lyrical in an article.
Worth it for: Plush bedding and quiet cabin
Best for: Business travellers alternating between napping and working
Virgin Australia: The Business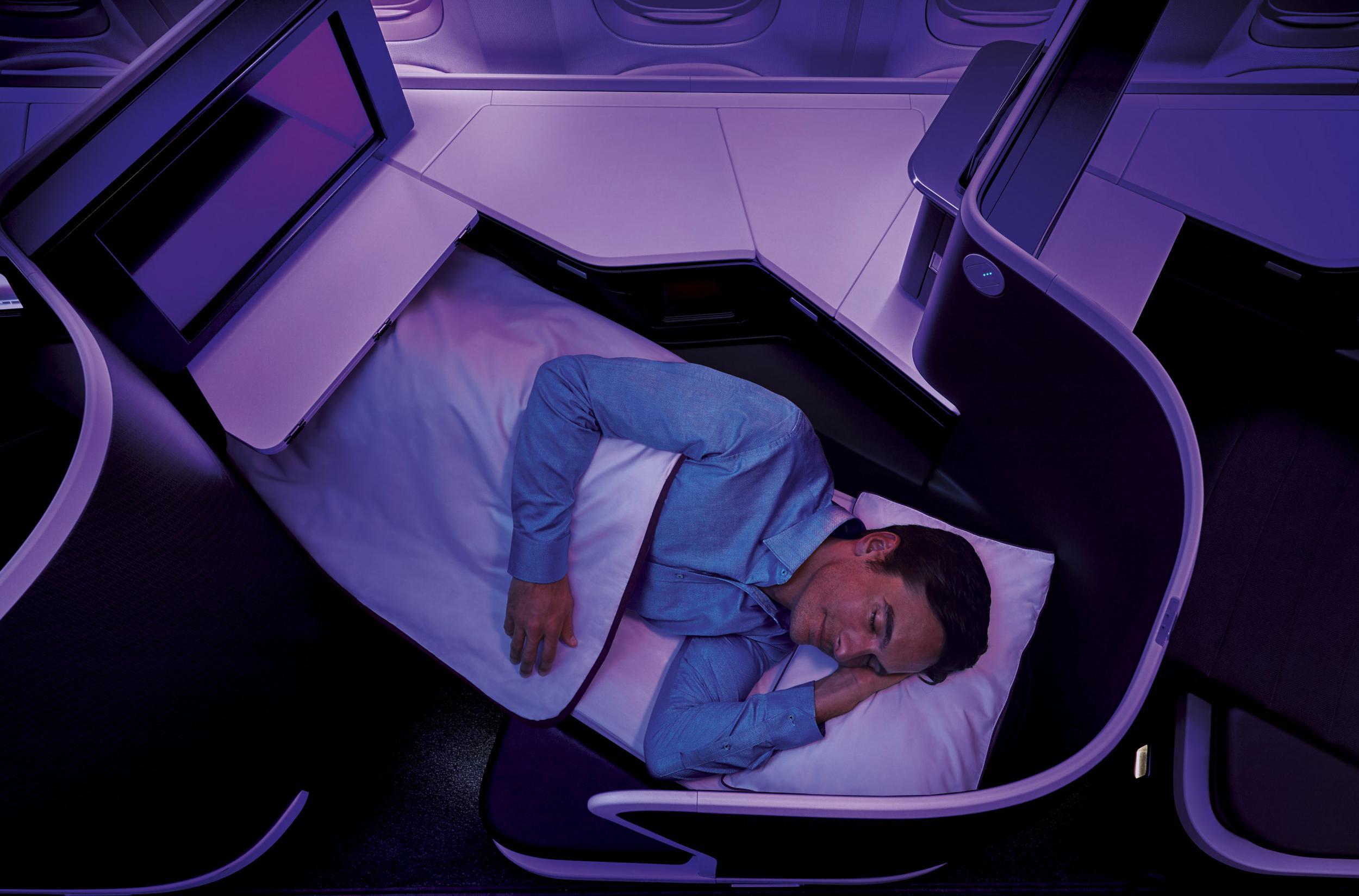 The Virgin-standard onboard bar mixes up nightcaps between the two business class cabins, where passengers relax on seats that transform to 80in bed surfaces topped with memory foam mattress pads.
A fan says: "It's honestly one of the best sleeps I've had in the sky, and it's the length of a regular bed (or so they claim), and I can really stretch out my legs." Rhiannon Taylor, photographer, In Bed With.
Worth it for: The easy transition from nightcap to night-night
Best for: Travellers anxious over flying lengthy routes to Australia
Air New Zealand: Business Premier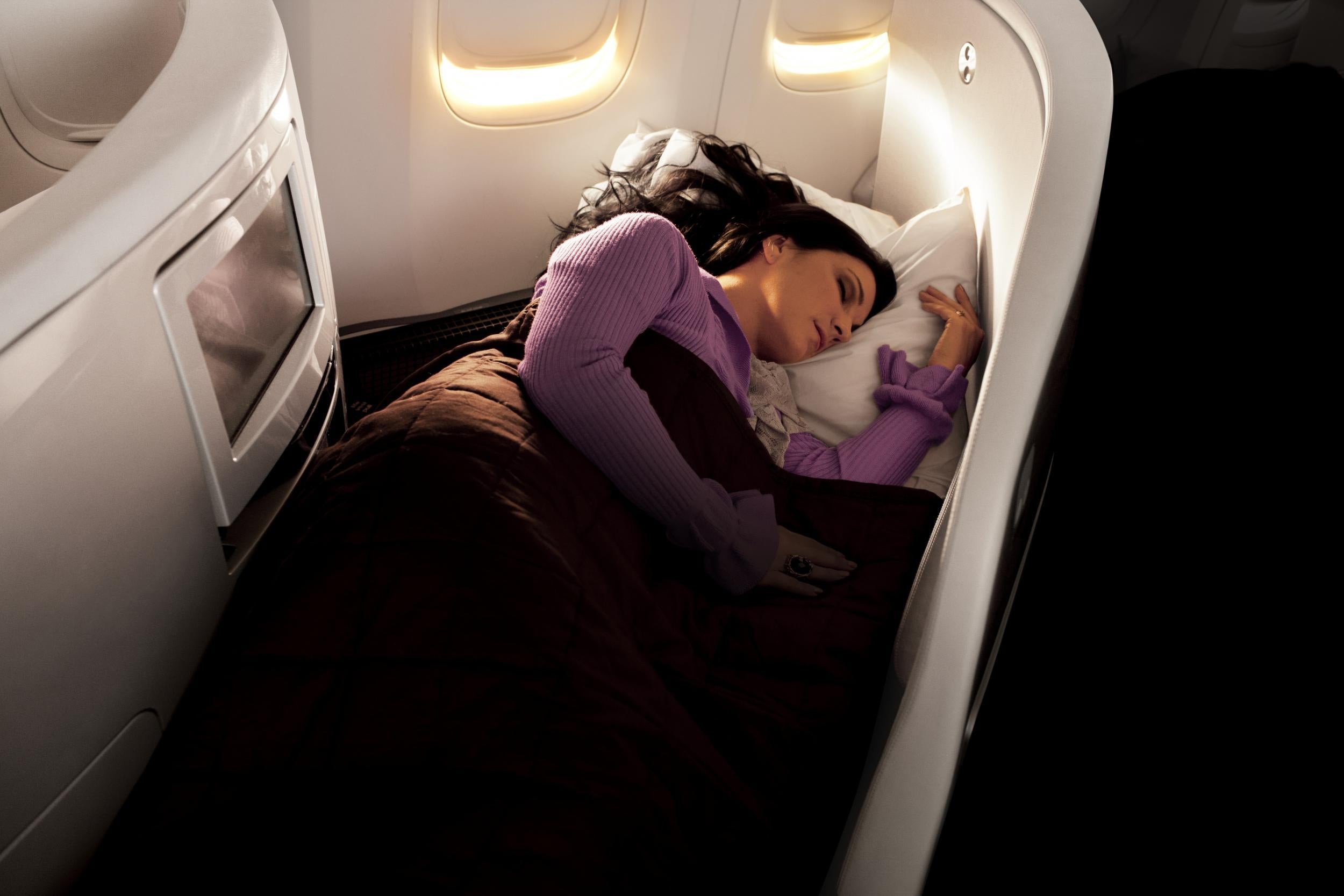 Reaching New Zealand from much of the rest of the world is no minor undertaking, and Air New Zealand understands that lengthy flight distances require a comfortable passenger experience. But you don't have to go so far to enjoy it – ANZ is also a great, low-key way to fly from Heathrow to Los Angeles.
Like its London-LA rival Virgin Atlantic, the Business Premier cabin uses a "herringbone" configuration – with passengers facing away from the windows, their feet pointing into the aisle. The seat flips over to turn into a bed. There's extra cushioning in the back of the seat, and they add a topper and duvet. Note that if you want to look out of the window, you'll have to crane your neck.
A fan says: "Some people miss reclining to sleep, but I've flown it a lot and have no problem popping to the loo, brushing my teeth, changing into PJs and returning to find that the flight attendant has made my bed with a squashy mattress pad, soft cotton blanket and decent pillow." John Walton, deputy editor, Runway Girl Network, columnist at Australian Aviation magazine.
Worth it for: The softer sleeping surface
Best for: Making good use of (with sleep or work) the long flight hours to or from NZ, or from London to LA
Japan Airlines: Sky Suite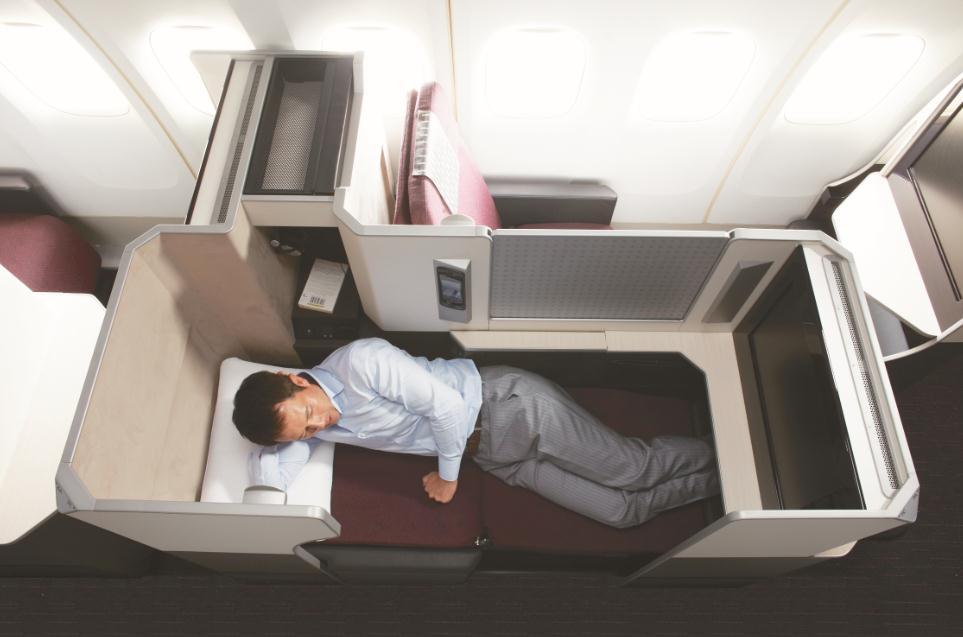 Travellers in a Japan Airlines "Sky Suite" benefit from more than just a mattress pad and good food; the seat, produced by US conglomerate Rockwell Collins, has the winning combination of all-forward-facing seats and all-aisle-access.
The seat has also been adapted for business class on Oman Air and Korean Air, but Japan Airlines' attentive service and pre-snooze fine dining is what vaults them into our list. However, be aware that the cabins tend to be kept warm – sometimes overly so.
A fan says: "The privacy is unmatched, and I give it bonus points for having a mattress pad, consistent WiFi, and of course Japan Airlines' standard excellent food and service," Ryan Duffy, New York-based frequent flyer.
Worth it for: Reliability, excellent onboard cuisine and sleeping privacy
Best for: Travellers who want a window seat and direct aisle access
Delta Air Lines: Delta ONE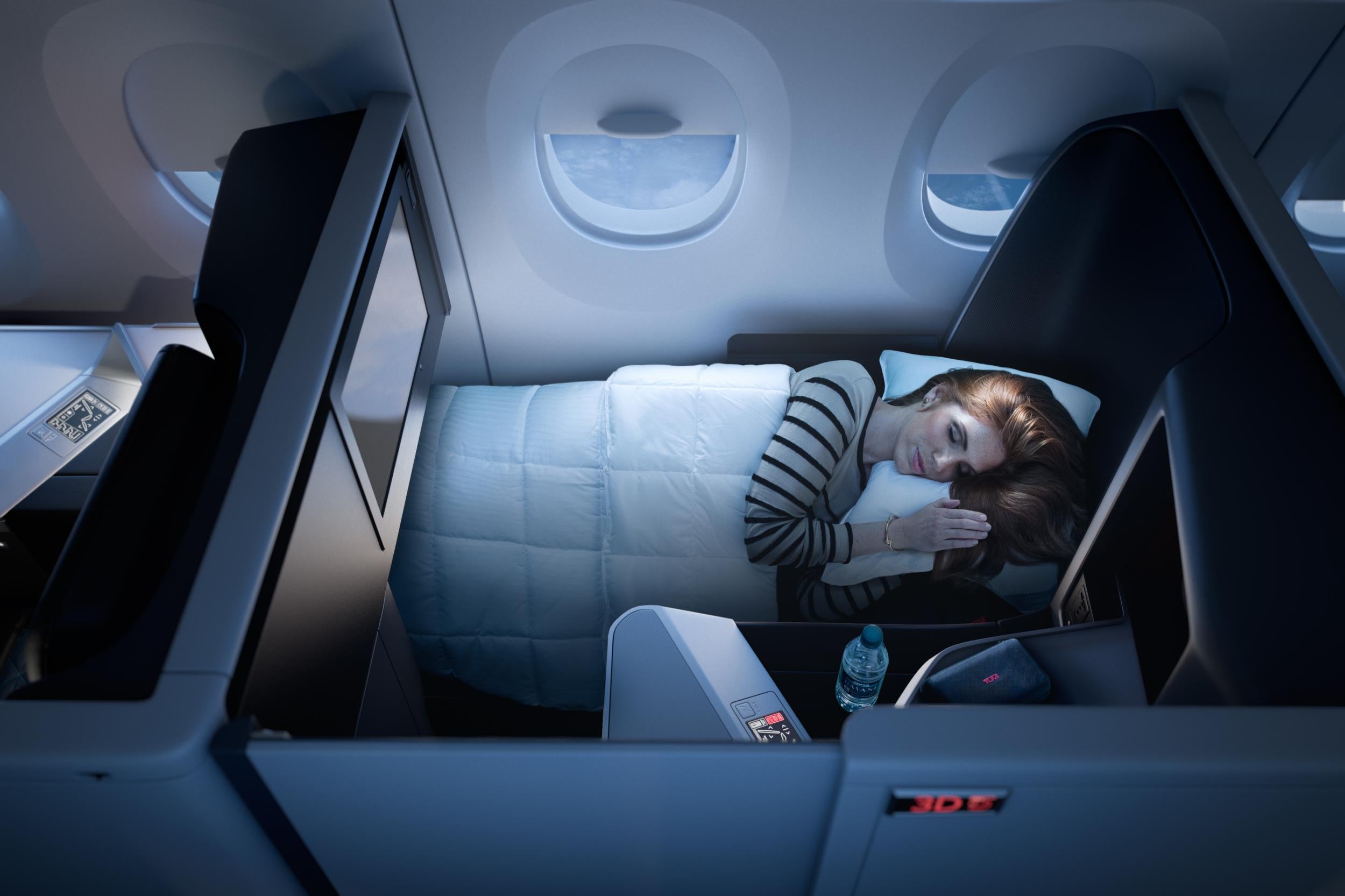 Qatar's Qsuites aren't the only long-haul business class seat with privacy doors, as Delta ended 2017 with the debut of their own new suite, complete with memory foam cushions, Westin hotels' "Heavenly" bedding, and a sliding door to shut out the rest of the cabin when it's time to work or snooze in peace.
For now, only the airline's Airbus A350s have the new suite, and through 2018 only select routes out of Detroit and Atlanta will see the planes with these seats inside.
A fan says: "It was very comfortable and quiet, and even with the door open I could not see another passenger. The door, when closed, kept out noise from the flight attendant service and other passengers walking in the cabin." Delta fan @GoldboxATL.
Worth it for: The bragging rights of trying the best and newest
Best for: Travellers with Detroit on their to-visit list
Air France: Business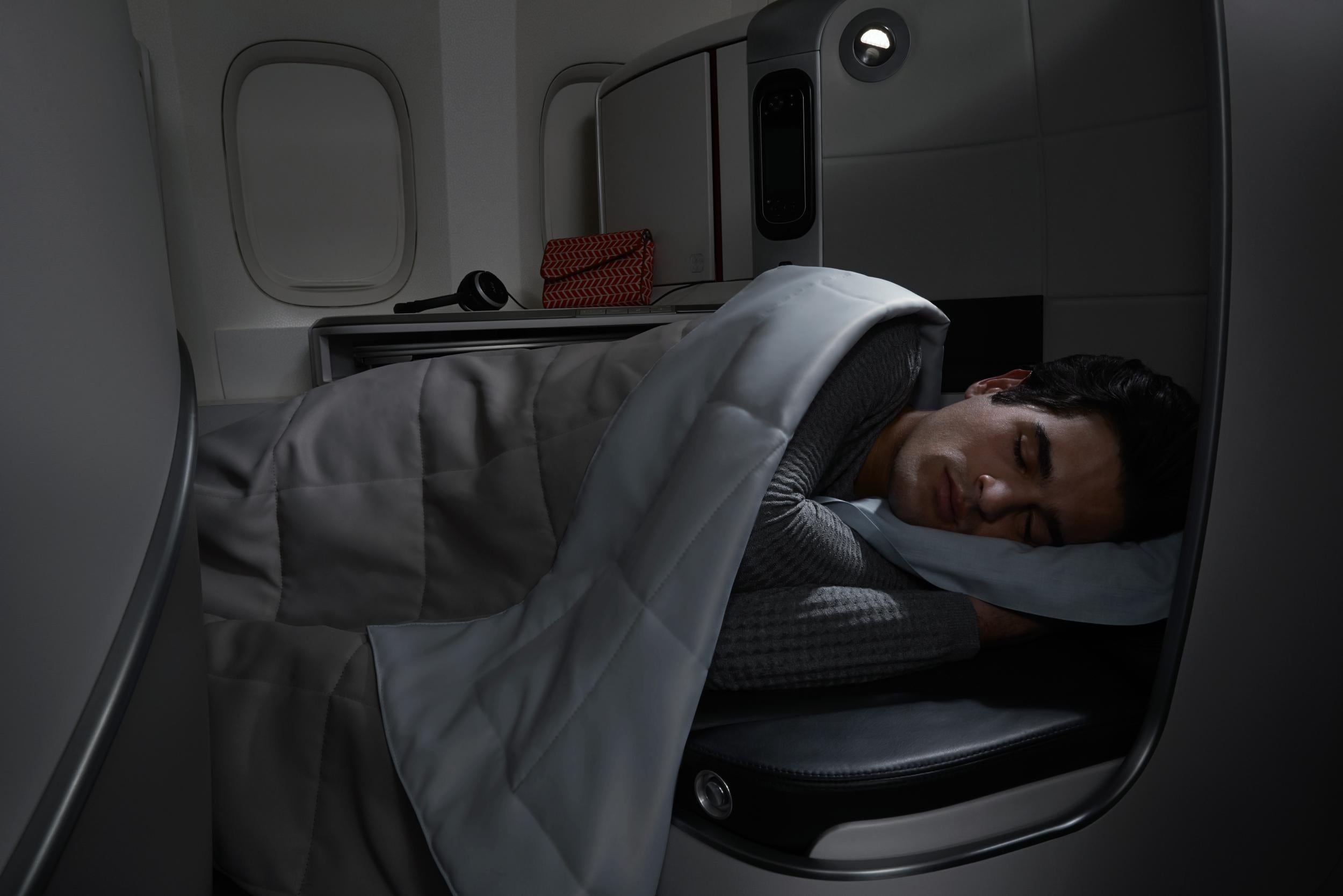 It may be tempting to choose the superjumbo Airbus A380 when booking flights, but one of the best business class beds out of Europe is to found on Air France's Boeing 777s and 787s. Reclining to a fully flat bed of 6ft 5in, the streamlined seats are topped with a large pillow and soft duvet for sleep, and the reverse herringbone configuration means everyone has aisle access and the privacy that comes with being cocooned away from their nearest neighbour.
As befits France's flag carrier airline, proper Champagne and French wines are served in business class, and the menus are designed by French chefs, including Daniel Boulud and François Adamski.
A fan says: "Having recently flown it on the transatlantic route between New York and Paris, it's become my favourite European airline business class product for the fact that I was able to dine, get work done, and still go flat for a quality sleep on what is often considered too short a route for all three. The success comes from the seat – a reverse herringbone configuration that brings privacy and the necessary personal space to sleep soundly." Cynthia Drescher, aviation journalist (and author of this article).
Worth it for: The touches of French luxury, such as Clarins products in the amenity kits
Best for: Francophiles
JetBlue: Mint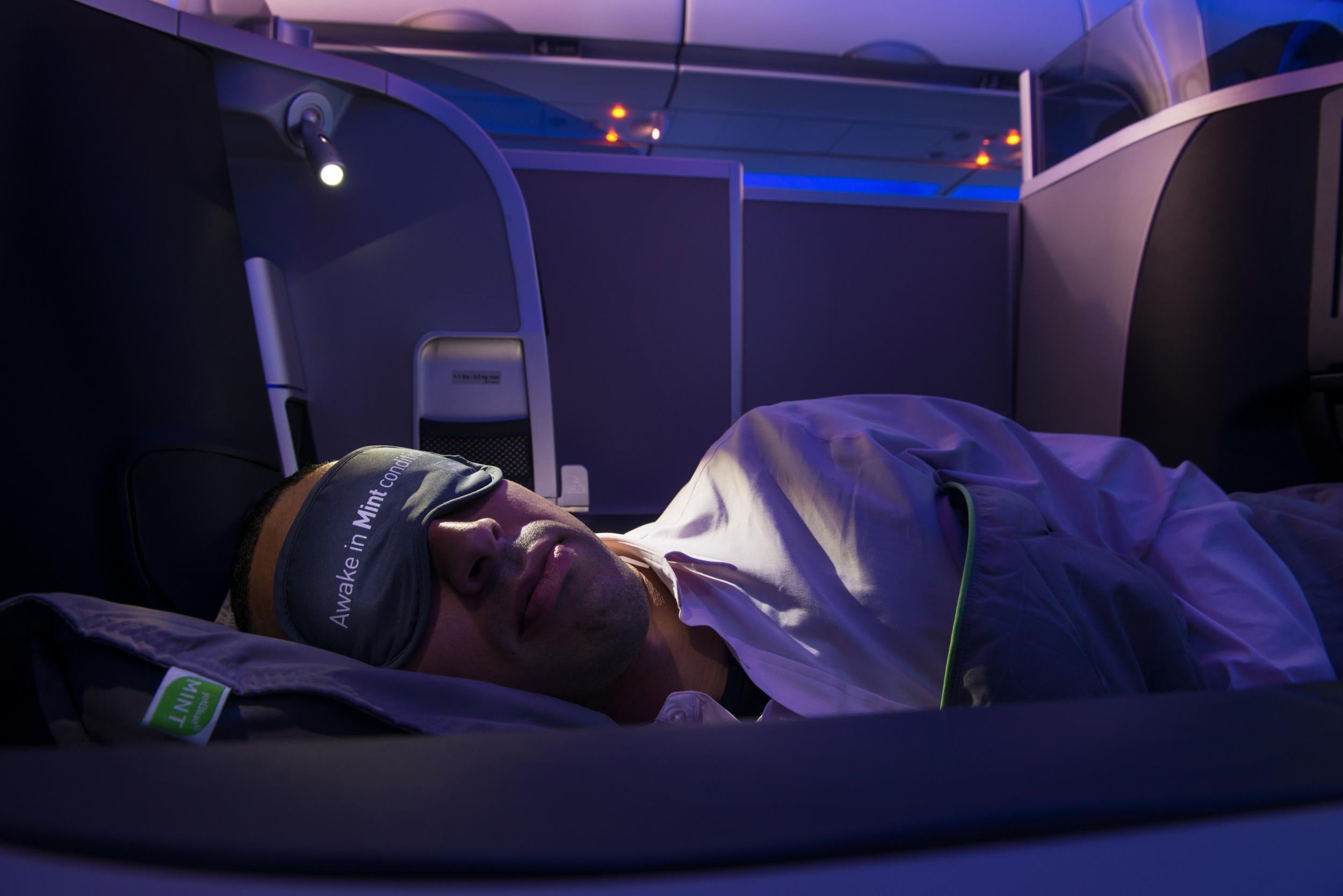 It's one thing to enjoy personal space and privacy on a lengthy international flight. It's another to be so spoiled on a mid-haul route between the east and west coasts of the US, or the east coast to the Caribbean. Yet these are the routes where passengers find JetBlue's "Mint" cabin, an arrangement of premium seats at the front of select Airbus A321 aircraft in the JetBlue fleet.
With a lie-flat bed stretching 6ft 8in, the Mint seats go above and beyond to feature adjustable firmness and built-in massage. What's more, four (out of 20) seats are solo "suites", which have just one window seat and a sliding privacy door to cut you off from the rest of the cabin. Pillows, a plush duvet, and hipster food and beauty kits (one for him, one for her) complete the setup.
A fan says: "The solo seats are a heavenly trifecta of privacy, comfort, loads of work and storage space. The service is top-notch, too – Jetblue cabin crew are leagues ahead of other US airlines." Julia Buckley, travel editor, The Independent.
Worth it for: Superb all-round experience
Best for: Sceptics of premium US domestic airline travel
British Airways: Club World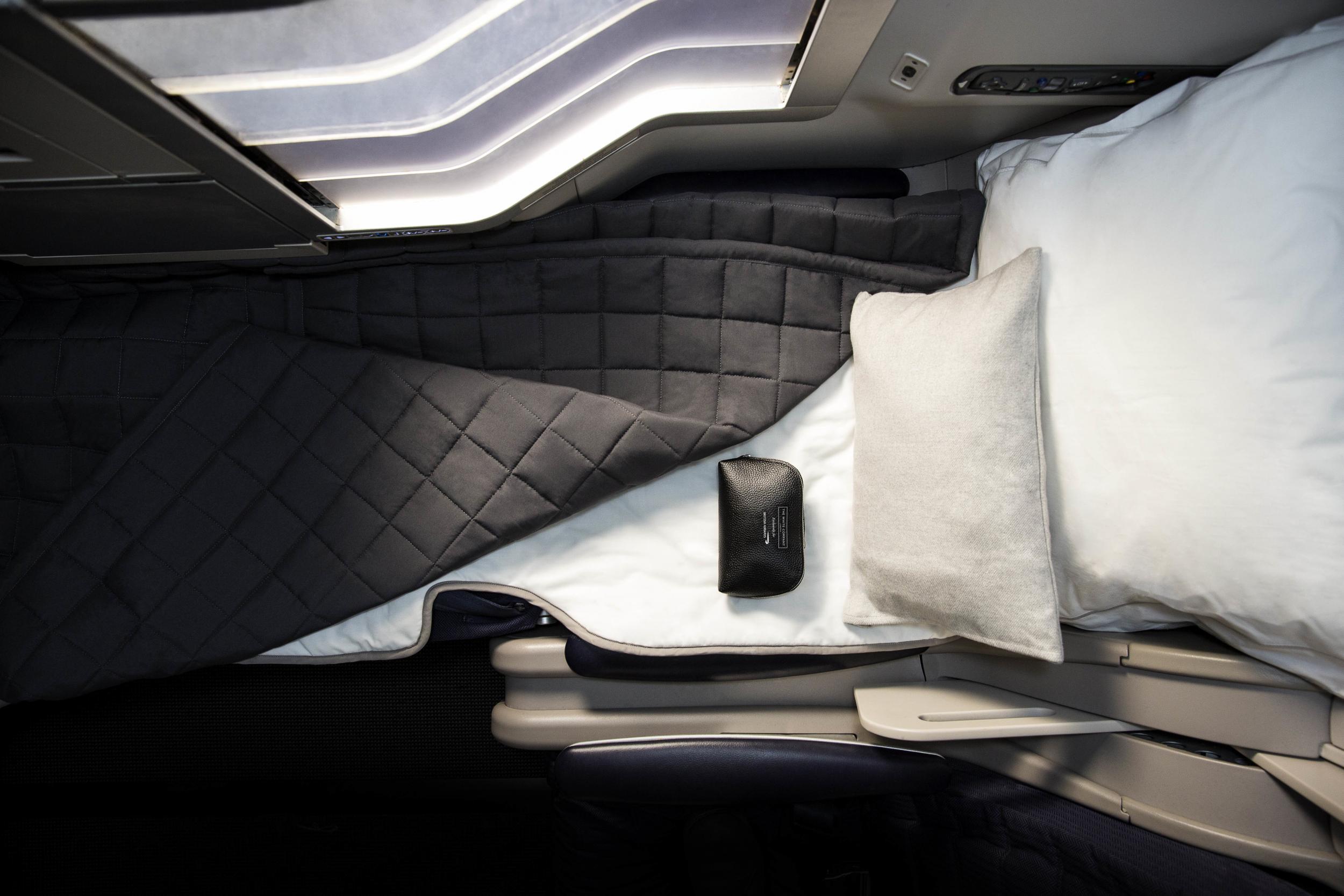 Lie-flat seats in business class have only been around since 2000, the year British Airways unveiled "Club World". The revolutionary design, by London-based firm Tangerine, was a "yin-yang" configuration (passengers sit side by side but facing each other with a screen between them – so it doesn't feel as intimate as sleeping next to a stranger.
The configuration makes for a rather dense business class (it's a two, four, two configuration) but allows each passenger enough individual space (6ft 6in) to sleep fully flat. Small updates have occurred over the years, including a recent addition of luxury bedding and amenity kits by The White Company.
Because of its crowdedness, Club World can be controversial, and flyers typically fall into either the "love" or "hate" camp. Rumours of a redesign have devotees worried, but Club World's nearly 20-year run has already gone down in history as one of the most successful premium airline seats ever.
A fan says: "I sleep well in the British Airways business class seat. Maybe it's because I'm very used to it. I'm also huge fan of the 'Z position' on day flights. It's like a chaise longue." Gavin Werbeloff, real estate fund manager and frequent transatlantic traveller.